We all have gone to a show or been online and fallen in love with a hank of yarn because the colors are just PERFECT and of course we HAVE to buy it even if we have no idea what to make with it. Well here's some ideas! I'll have future blog posts with other pattern ideas. For today I'm going to focus on fingerless mitts. These are perfect because you can wear them for a lot of the year so you get to show off your awesome color choices and your handy work more!
Knitting Patterns
Here are some of my favorite fingerless mitt knitting patterns.
by Sunshine Stewart
I love the fun slip stitch pattern on these! They are just enough to break up any pooling that might happen yet not so much that they would compete with colors.
by Sybil R
These have such a fun, unique construction! They would like great with a gradient, self striping or any indie dyed yarn even a variegated one. The circles won't be as noticeable with a variegated but they won't really compete with the colors, more work with them. I think these are going on my list to make myself.
by Mone Dräger
These mitts have just enough pattern to them to keep your interested but not so much that they won't work with variegated yarn. Also as their name suggests they hide the thumb gusset. I think they would be perfect for my daughter!
by tincanknits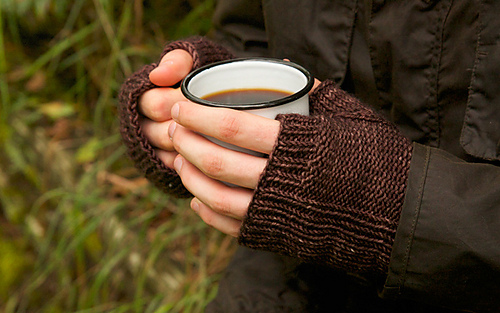 Tin Can Knits patterns are so well written they are great for all level knitters. If you are a beginner and not sure which pattern to choose, you can't go wrong with this one.
by Aimee Pelletier
If you love cables but also love variegated indie dyed yarn then this pattern is for you! The traveling stitches still let the colors of the yarn shine through and give just enough variation to be fun to knit and to wear.
by Lisa Dove
This is the simplest pattern I've included but it's perfect if you want more coverage on your fingers but need to sometimes be able to use them. The flap easily folds back so you can type or whatever work you you need to do with your fingers. Then when you are done you can unfold it and keep those fingers toasty warm.
Crochet Patterns
That's right, I didn't forget you crocheters out there!
by Meladoras Creations
I love this stitch pattern! Love it! It reminds me of dragon scales and I so love dragons! It works great with so much yarn too.
by Danyel Pink
When you want something simple to crochet these are a great choice. They will also let the great colors in your yarn be the spotlight. They are worked sideways too to give a different look and nice lines.
by Yarn-Madness
I'm not very good at crocheting, but these are calling my name! I love the simplicity and that it doesn't have a thumb because I think I might be able to knit wearing these.
by Sarah Francis
And we come to my last pattern. This one caught my eye because of the detail near the wrist and the beads. Beads can be the perfect addition to your favorite yarn. And remember you don't have to choose a color in your yarn. Something in the same color family or something neutral always looks great.
So that's my list. Which was your favorite?